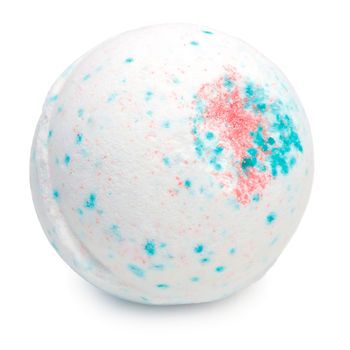 Sakura Bath Bomb by Lush


Prices: 1 6.3 0z Bath Bomb - $6.45 US

From the site:

When the blossoms burst forth in spring, it's a tradition to take a picnic and bottle of sake and enjoy the beauty. Noriko, one of our product inventors, hails from Japan and this beautiful Bath Bomb represents what it's like to be in a park while the breeze blows through the blossoms in the trees. Instead of heading to the park, lay back in serene waters while the gorgeous scents of mimosa and jasmine envelop you to give you the joyful feeling of springtime. Sakura: simple, elegant, and enduringly beautiful bathing.



Features:
- The smell of springtime: Mimosa flowers yield the intense, floral fragrance of mimosa absolute.

- Salty season:We use sea salt for its soothing effects on the skin, and also to decorate every blooming Sakura.

- Blossom bathing: If you love the fragrance of Sakura, you'll adore Rub Rub Rub shower scrub and our Seanick shampoo bar.

Ingredients: (Note: Natural Ingredients shown in italics, Safe Synthetics are Underlined)


Sodium Bicarbonate ,

Citric Acid , Fragrance , Fine Sea Salt (Sodium Chloride) , Lemon Oil (Citrus limonum) , Mimosa Absolute (Mimosa tenuiflora) , Orange Flower Absolute (Citrus Aurantium amara) , Jasmine Absolute (Jasminum officinale) , Gardenia Extract (Gardenia jasminoides) , *Citral , *Limonene ,

FD&C Red No. 4 , FD&C Blue No. 1

I absolutely adore this product. I always have at least half a bath bomb around; when I get down to half of one, it's time to order more.

As a bath bomb--which is what it's meant to be, of course--I find it extremely soothing. The scent is floral without being heavy, and there is just a hint of something fruity underneath. The cherry blossom smell truly is the strongest.

It does soften my skin somewhat, but I admit the effect there is minor. Existent, noticeable, yes, but minor. I've never had any problems with petals or needed to put it in a nylon or tea ball.

However, after accidentally discovering another benefit of Sakura, I don't use it in the bath any longer.

I have anxiety attacks. One day, I went to take a bath while having one, hoping it would help, and happened to put Sakura in the tub.

The effect was astonishing. I don't claim this would work for everyone this way (though it has for two of my friends who also suffer from anxiety), but for me, after about five minutes of smelling the Sakura, my anxiety attack went away entirely. It was as effective as anxiety/panic attack medication, but (thankfully) lacked all the side-effects of the medication I had tried. (Side-effects I hated.)

I no longer need any medication, and, as said, I no longer use Sakura in the tub. Instead, I carve up a bath bomb into 8-10 equal portions. When I feel an anxiety attack coming on, I put one portion into a mug and add hot water to it. I then simply inhale the scent and calm down within five minutes.

The bath bomb lasts far longer, and since I wasn't overly impressed with anything beyond the scent of Sakura and how it calmed me, this works perfectly.

When calmed, I reheat the water in my microwave and set it in a room in my apartment, letting its scent fill the room. Once that's done, I take a bath and pour in whatever of the mixture has not evaporated; enough to add just a hint of scent to my bath, and it makes sure I get every possible use out of the Sakura Bath Bomb that's possible.

If, tomorrow, Lush announced they were discontinuing Sakura, I would probably order as many of the item as possible, along with saving the ingredients so I could mix up essential oils when the Sakura-stash ran out. A true lifesaver, for me and for my two friends, and a pleasant, relaxing experience, if not an astonishing one, as far as simple bath bomb use goes.
sounds: Audiobook - Too Many Curses by A. Lee Martinez